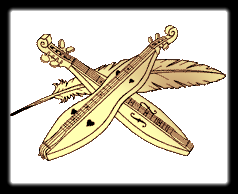 703 Allegheny St., Hollidaysburg, PA
Tel: 814-317-7410
Altoona is a once-bustling railroad town that's been in decline since long before American steel mills started to close. But Hollidaysburg has always been relatively prosperous. Many stately old homes built soon after the civil war are found on tree-lined Allegheny Street, and our home is among the nicest of them. But even the more modest areas of town are well-kept, quiet and safe. It's well worth exploring the town by foot or cycle.
The pedestrian-friendly downtown, called "The Diamond", has managed to survive and still has small neighborhood shops. There are several restaurants and three coffee shops on Allegheny Street, all within brief walking distance of our B&B.
This is a town where many people attend church. There are churches of virtually every Christian denomination, including two Catholic churches. But there are also some very fine bars, including Shan Nicoles (pictured) and the US Hotel Tavern.
We're right in the center of Hollidaysburg's historic district, five miles from the Amtrak station in Altoona. We offer a 10% discount and free pickup to anyone arriving by train.