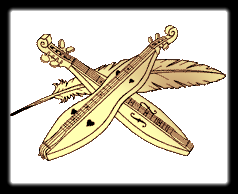 703 Allegheny St., Hollidaysburg, PA
Tel: 814-317-7410
This fine Second Empire-style home is full of nooks and crannies to explore. The common areas are appointed with period furniture. We maintain one of the best collections of American mountain dulcimers and other unusual folk instruments in the country. Guests are welcome to play any instrument in the house upon request.
We offer the best breakfast in the area. Most everything is organic. We serve eggs, turkey bacon, cheeses, fresh fruit, hot and cold cereal, fresh breads and seasonal specialties. Breakfast is at the heart of the experience -- don't miss it!
Allegheny Street Bed & Breakfast is also the home of Sunhearth Mountain Dulcimers. We make, restore and repair mountain dulcimers, and we are a distributor of new McSpadden mountain dulcimers.